Shree Tanchok Basic School
Total donations: $9,085 | Partnership: Since 2018
This school of only 19 children aged 3 to 10 years old is our newest partner in Nepal.
Our very first project was to renovate the existing toilet so that the children and teacher have a hygienic environment.  We look forward to helping the children at this small school succeed in the years to come.
To help connect these students on top of the world, with the rest of the world, when the school reopened after Covid, we purchased 2 laptops for the school.  The children have already started practicing and learning basic computer skills with the help of a professional computer teacher to make sure they have the best skills going forward.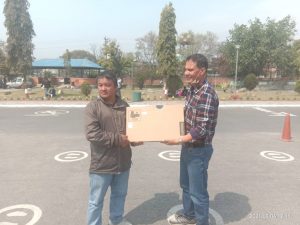 In our continuing efforts to improve the learning environment at this school, with your help we funded needed classroom repairs such as the flooring, upgrading the electrical wiring and reinforcing the roof.  The success of these improvements has been manifested in the increased admission of children from nearby villages.
And since it's not always about being in the classroom….how about this as your view while swinging on top of the world?