Hacibektas area schools
Total donations: $50, 059 | Partnership: 2010 - 2016
Hacıbektaş Town has 5 schools. There are 26 villages around it and 600 village children are being transported to this town for education.
One of the first projects that GCF funded was the expansion of the kitchen used to prepare meals for the students, since the existing kitchen was not large enough to accommodate their needs.  With an investment of $16,500 the kitchen was made large enough to not only provide daily lunches for the schoolchildren, but also provide food for sports festivals, the income from which then budgeted free lunch to 200 low income children.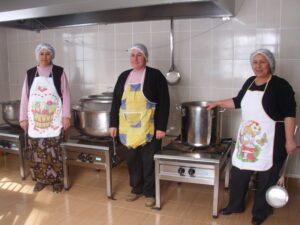 We then renovated the library, creating a warm open area encouraging both children and teachers into the space.
Once again working with all 5 schools, we renovated the existing conference room by updating the seating area and sound system, allowing it to be used not only by the school but for public events and cultural activities.