Europe
Providing housing & necessities for 2,500 refugees in Poland
"The Good Fight is the one that we fight in the name of our dreams."
~ Paul Coelho
Local governments in Poland have stopped providing support to non-profit organizations. Instead, they have opened large warehouse-style refugee centers to house the refugees. Please help us continue to provide dignified housing, food and education for Ukrainian refugees by donating here.
_______________________________________________________________________
Dear friend,
These words remind me of the fierce determination of the Ukrainian people to protect their homeland and their dreams. As we pause today to remember the horrific events of September 11, 2001 when our nation was attacked, my heart breaks to think of what the people of Ukraine have endured for the past six months.
Families are broken apart as women, children and elders head to the safety of a different country, not knowing when or if they will be reunited. Women who leave Ukraine must learn a new language and find a way to support themselves and their children. Women who remain in Ukraine gather to create camouflage nets and learn how to detect land mines.
With your support, and a matching donation of $250,000 from the Alnoba Lewis Family Foundation, we have raised $2,734,827 and have wired $1,794,072 and committed another $613,325 over the next 3 months for a total of $2,407,397, helping more than 48,683 people, mostly women and children.
News of the atrocity in Ukraine has been pushed from the front page, but the war rages on. Just as we Americans united after 9-11 and showed the world our courage and resilience, so have the Ukrainian people shown their willingness to fight the good fight. They need our help.
I hope you will please consider making an additional donation. Together, we cannot help everyone, but we can remain true to our commitment to support as many refugees as possible in Poland and Romania. Every donation, no matter the amount will help, and you can be assured that 100% of every dollar will be used to support our partners in Poland, Romania and Ukraine. Stefan and Kadir are working diligently to ensure that every dollar donated is used wisely and has the greatest impact.
I will continue to share updates on the communities, organizations and people Grand Circle Foundation is supporting, and the impact of your donations. Previous updates can be found here.
Thank you again for your continued support and trust.
Peace and love,
Harriet R. Lewis
Vice Chairman
Poland: Humanosh Foundation – ambulances for medical evacuations
Grand Circle Foundation has pledged to support the purchase of 2 more ambulances ($36,000 each), medical equipment and supplies for the ambulances for one year ($132,000) and monthly maintenance and fuel costs for 6 months ($28,800).
Recent medical runs have seen patients transported from Lviv, Ukraine to Rzeszow, Poland Airport for evacuation. Depending on the availability and also the need of medical treatment, patients are transported to Germany, Sweden, Norway, Italy or Spain or by medical train to Warsaw hospitals.
Patients are also taken by our ambulance to hospitals in Krakow, Katowice and Opole, Poland.
Poland: Siedlce Housing ($100,000) in partnership with the Lena Grochowska Foundation ($725,000 funded).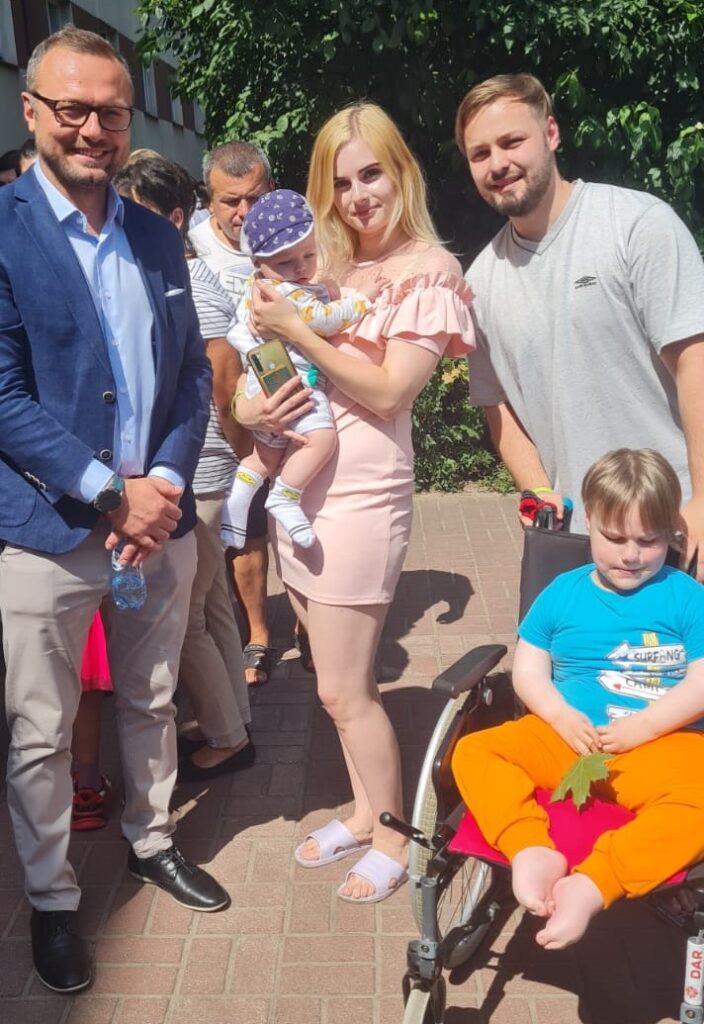 Kadir, pictured above with Ihor in the wheelchair, and his family, visited Siedlce for the Grand Opening. This housing project, in partnership with the Lena Grochowska Foundation is located only 60 miles from the border, and a first stop for many as they determine where they would like to move to eventually. Capacity is 500, including housing for 80 disabled refugees – one of the few housing options for disabled available in all of Poland.
Ihor's family is from Cherson and when the war began, they fled first to Kiev, later to Lviv and then to Warsaw, but at every place, they had challenges one of the other places were handicap accessible. They moved to Siedlce 3 weeks ago. Despite a law barring all men ages 18-60 from leaving the country. Vladimyr, the father, was able leave his country since they have a disabled child and another 11 months old daughter, Alina. Vladimyr's wife, Olga, said, "Our life is much easier thanks to our project in Siedlce because mobilizing our son is way easier, with everything in our room and in the building is prepared for people in disabilities." Olga will be also taking advantage of the day care provided in this project to find a job.
Romania: Medias, Transylvania: Providing weekly delivery of food and hygiene products for 200 women, children and elderly refugees
From Stefan Mototolea:
We are very proud of our help here as we are truly making a difference. As the refugees were celebrating the National day of Ukraine, we participated and provided some sweets for the children, in addition to food and hygiene supplies. Doesn't everyone love a Milka chocolate bar?
Valentina & Iulia in the video above, are both Ukrainian, and also speak English and Romanian. With our support, they have started classes to teach Romanian to the refugees to help the women and children integrate better in the local school and community. We are providing school supplies for the children to start the school in the Romanian state system.
Romania: Falticeni – Bucovina – Moldova: the area closest to the Ukrainian border
This area closest has been affected from the very beginning of the war and continues to receive refugees. The refugees we met left Ukraine when the bombing started, leaving everything behind, just to go back to find their homes destroyed. Now they are in Falticeni, living together as a beautiful community that slowly but surely, are trying to build their life back. Your continued support makes a world of difference as they don't have to worry about what they will eat the next day. We are also providing school supplies as the children will attend 2 different schools in order to adapt better and be able to make friends.
Thank you for your generous support of Grand Circle Foundation, and the trust you place in our team to ensure your donation is used as intended.
Because all administration costs are funded by the Alnoba Lewis Family Foundation, 100% of all donations are tax deductible and returned to our partner sites.
If you made a donation to support a specific project and would like an update on how the funds were used, please feel free to contact us at: [email protected], or call 1‑800‑859‑0852.