Africa
Almost a bride to top student
When Sandra Vaughan first met Flora in 2014, she learned that the then 11 year old who'd just lost her mother, had been "sold" off into marriage by her father.  Although early marriage is illegal in Kenya, sadly it is still an all too common practice in rural areas.  The village chairman, the Maasai Chief and the head teacher quickly contacted the local police and devised a rescue plan for Flora.  Flora was moved to an all girl school in another district, boarding with "Mama Eva" while her father and 66 year old "husband" were prosecuted.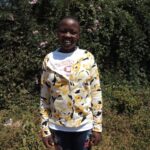 Despite the unusual circumstances for her placement, Flora became the only primary student to pass the entrance exam to secondary school and soon was attending Rombo Girls Secondary School.  She continued to live with Mama Eva and never went home during school breaks for her own safety.  Luckily, Mama Eva is a qualified Community Liaison Officer who specializes in Women's Rights and homes rescued girls.
Flora embraced her studies and was a top student, moving to a top tier secondary school at the governments request a couple of years later.  Although a donor supported Flora's personal expenses during this time, GCF supported her tuition and boarding fees through our Kenya Scholarship Fund.
Soon, her sister Neema joined her when we learned that the father was at it again.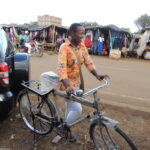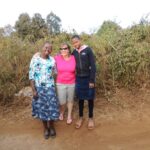 Here Flora and her sister Neema are with Sandra in 2016.  Despite our best efforts to support her, Neema dropped out of school after a couple of years.  All we can do is hope for the best.
Flora finished secondary school earlier this year and hopes to continue her studies at university level.
An African proverb states,
"If you educate a man you educate an individual,
but if you educate a woman you educate a nation."
If you would like to support Flora or any of the other girls who are currently on scholarship, please click here or visit our website and choose either the Kenya Scholarship Fund or Tanzania Scholarship Fund.