Europe
Haven Horizons – the inspiration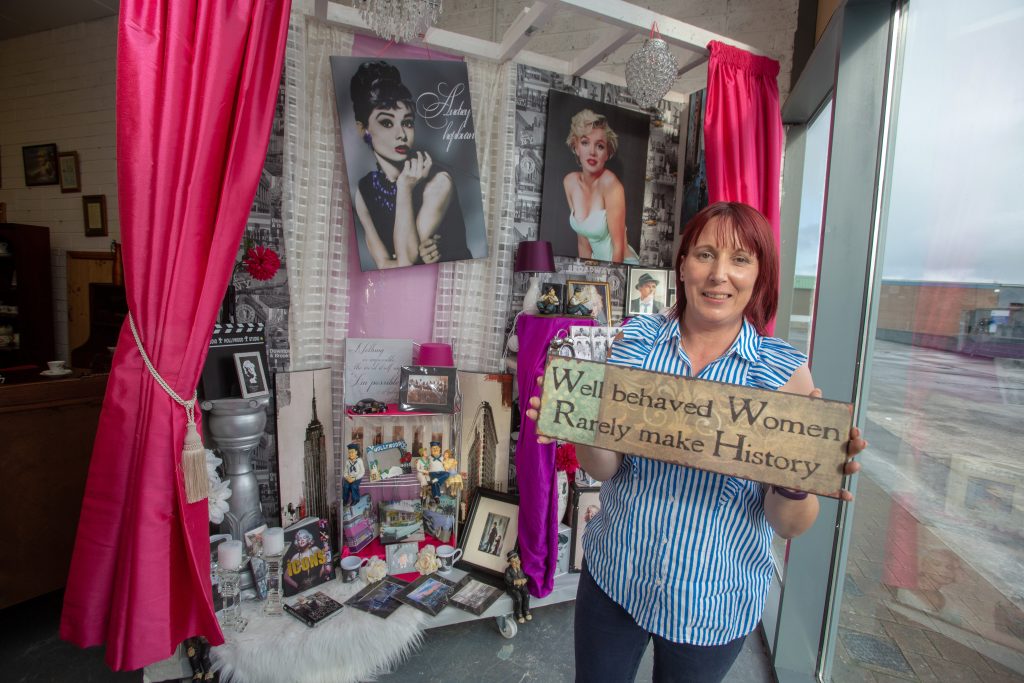 Can you tell us about the inspiration about this window display?
I was inspired to create this  window display by a middle aged lady with special needs called Mary who has been a long-time regular customer of our charity shop.  Mary is obsessed with Marilyn Monroe memorabilia  and certain Hollywood icons of the past like Grace Kelly & The Brat Pack. As Mary was constantly asking for memorabilia from this era  I decided to gather a number of related donated items and surprise her with this window display. Mary was over the moon when she saw it and still comments on this window display when she comes to our shop. This display also generated a lot of interest amongst our female  customers and the sign  which read "well behaved women rarely make history" led to plenty of lively discussion!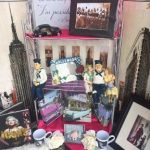 What is your favourite window display you have completed?
As each display is unique I find it difficult to  choose one in particular. However I do recall enjoying putting my creative upcycling skills to the test and having a lot of  fun bringing together an "Alice in Wonderland" display which covered  both the fashion store and the furniture & home store windows.  My inspiration started for this display when we received a donation of a  wooden Doll house and Cheshire cat bag. I immediately  thought it would be nice to do a quirky Alice in wonderland themed display. As a charity which endeavours  to keep our costs to a minimum and also support sustaiinable retail we do not  buy any props or materials for our window displays, but instead  use whatever materials come in as donations and either recycle, upcycle, or repurpose them to suit our needs. To find enough items to fill a display can take several months to a year.
All the props for this display such as wallpaper, paper plates, damaged plastic poles from kids' playhouse, paper from used scrapbooks, broken jewellery were used to make the embellishments for the mad hatters' hat; the material flowers were donated but large paper flowers were made from donated card and paper.  The costumes were made from altered clothing that would have otherwise been disposed of as rag including Halloween costumes which were ripped and torn.
Customers were very inspired by the upcycling and repurposing of items for this display. I was also  delighted when this window display won first prize in a window display competition for the Ennis Book Club Festival which provided our charity with a €500 voucher of free advertising in a local regional newspaper.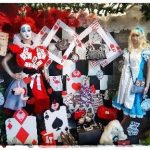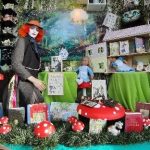 Where does your inspiration come from?
The inspiration comes from many places.  It could be a piece of furniture, a picture, household item, piece of material, a display I saw in a shop window,  a colour combo that catches my eye or a unique item like a vintage style pillar telephone which inspired this display: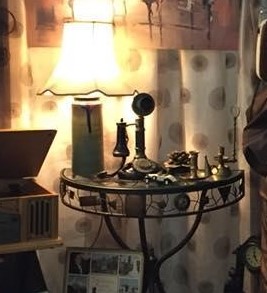 Or broken picture frames which inspired me to put these two displays together: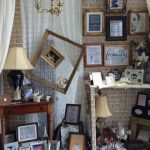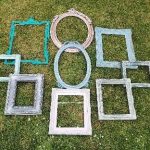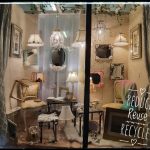 Have you always been creative?
Yes, I never liked playing with dolls, I was happiest when I was drawing or colouring as a child. I still can't draw much but give me a paint brush and a piece of tired looking furniture or some card stock and paper and I can lose myself for hours in a project and become very creative.
We heard you have won many awards for your displays could you tell us about them and what they mean to you? (share a picture of one if you can)
As mentioned above our charity recently  won an award from the Book Club Festival for the Alice in wonderland and the mad hatter window displays. Our charity shop has also received lots of national recognition for our window displays through the Irish charity shop Association which is the umbrella organisation for charity shops in Ireland.  It's great to win competitions and be recognised for the work we do as it raises the profile of the charity. For me personally I am simply happy to be of help raising awareness and funding for the charity in any way I can as its close to my heart and I have seen first-hand how so many women and their families who have been supported through very difficult times through the domestic abuse support services of Clare Haven which our charity shop supports as well as through the work of the Skills share group.
What do you love about working in one of Irelands largest charity shops?
I have been involved with the Charity for over 10 years, 8 in the charity shop and I can honestly say that I love every minute of it.  I love the fact that I have been there from the start and have been directly involved with a great team of staff and volunteers in sucessfully transforming  a large disused empty  building into a bustling hive of non-profit sustainable retail activity for the benefit of our charitable cause to end relationship abuse. Our biggest challenge has been keeping up with the pace of growth and expansion required  because of the public goodwill towards  our charitable cause both from donors of stock and customers. We are constantly adapting, expanding,  evolving  and improving our  business  for their benefit and I enjoy that challenge of constantly looking at new and better ways of doing things.
For example  following the outbreak of covid we opened a separate quarantine store for donations and developed our online shop.  I feel that I have personally learnt a lot along the way, and  I have become well aquanted with our regular customers who I have also picked up some good upcycling tips from.  When we receive a tired or worn-out piece of furniture I get great satisfaction in inspiring customers to transform it by upcycling it.  Customers are delighted with this additional service of providing  tips and advice.
I  look forward to continuning to being  a part of our very successful social enterprise which is focused not just on the great charitable cause of ending relationship abuse  but is also interested in supporting sustainability and the environment.  If we could secure the necessary funding  I also see great potential for our charity shops to grow even further into a regional centre in the west of Ireland  for the promotion of sustainability, reuse  and upcycling by providing workshops in a vareity of areas including sewing, repair works for household, jewellery and furniture items.
If you could do a display in any famous shop in any city around the world where would it be?
Honestly, I'm not sure I am qualified to step into the shoes of the visual merchandisers who create these amazing windows displays but if I had the opportunity, I would love to learn from them.
My main area of interest in window displays is in demonstrating how one can breathe new life into furniture, household and fashion & accessory items which have been discarded as old, worn and unuseable. I would love to further develop my skills in this area to avoid items going into landfill.
I have recently come across anthropology window displays and would love to learn more about how these displays are created.
At the upcycling classes out of all of them, which one is your favourite?
Unfortunately, I don't have any photos of the pieces the participants did in these classes.  I do however have some photos of pieces I upcycled for the Charity shop which were both raffled to our customers, these are two of my favourites.
Additional photos showing how the props for the Alice in wonderland props were made.