Africa
Victoria Falls – Masks for all!
Thanks to a generous donation from Grand Circle Foundation donors , 500 face masks were sewn and purchased from the "Vic Falls Masks for All" sewing group in Victoria Falls, Zimbabwe. At the onset of Covid-19 and the rapid decline in visitor numbers, sewers who had jobs that relied on tourism shops decided to start making masks for the local population. A few weeks later, the government made it mandatory for every person to wear a mask in public, keeping the sewing group extremely busy:
Traditional chitenge fabric is used as the outside layer of the mask to make them more appealing.
The sewers earn 50 cents for every mask made.
Due to high levels of poverty and the added stress of little to no income for many during this time, most people cannot afford to buy masks for themselves and their families, as each mask costs $1.00.
To help with this, for every five masks made from an order, one mask is made to donate to those unable to buy one
We also created an activity for children, using paper dolls to teach them the importance of wearing masks and how to do so properly.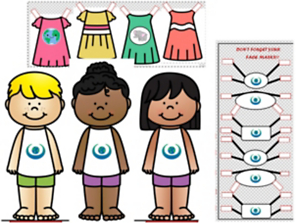 We hope to continue this project, making masks for school children so that they can return to school when term starts again in June. Thanks to Grand Circle Foundation, a difference is able to be made for those in the greatest need—a gift for which we are very grateful.