Asia
Giving Back to the World We Travel—Even When We're Not Traveling
In this sometimes heartbreaking time, I found a true ray of sunlight in the actions of Ole and the team here in Thailand.
By Pavi Kulatunga, Vice President, Asia Business Operations
A few weeks ago we started closing down the Bangkok office. We've been in this particular office space for almost 10 years, but more notably, Bangkok was one of the first offices established in Asia for Grand Circle. I was sad; as I am (by my own admission) unnecessarily nostalgic. But Ole, ever the pragmatist, just shrugged his shoulders in his special nonchalant way, and got on with it! He is a treasure among leaders, for his near constant, "we can do it" attitude. And that is exactly what he did.
Ole asked for help from the Thai Trip Experience Leader team to share any contacts they have for second-hand buying or donating for the equipment and furniture in the office. With the help and recommendation of one of our Trip Experience Leader Kitty, Ole found a deserving Social Service organization (led by a passionate woman) to donate some of our used stationary material and second-hand furniture.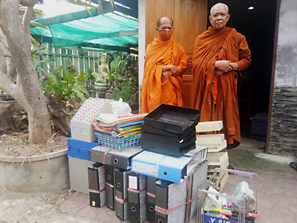 The 30 monks of the temple can now make use of binders, stationary, furniture, and more.
This Women's Social Services organization in the Kanchanaburi province supports three schools and one temple. The temple mainly supports Burmese immigrants and their children. These children are not allowed to go to Thai schools because they are not Thai citizens, so the temple provides basic education for them. Altogether 50 students, 30 monks, and 40 nuns are supported by this group. This organization's main focus is to provide services to help these immigrant children avoid exposure to the violent drug culture and illegal drug abuse. Many times the children are left behind while the parents go to work, so they are more susceptible to bad influences in the community.
This wonderful lady traveled several hours (Kanchanaburi to Bangkok is at least two to three hours each way) to visit our office and share their story and identify what they needed. Her passion for helping the people in her province and the fact that the current pandemic situation didn't deter her from traveling all this way for some second-hand furniture was inspiring! After her visit, we additionally donated four PC computers for the school, temple, and women's organization to support their good works.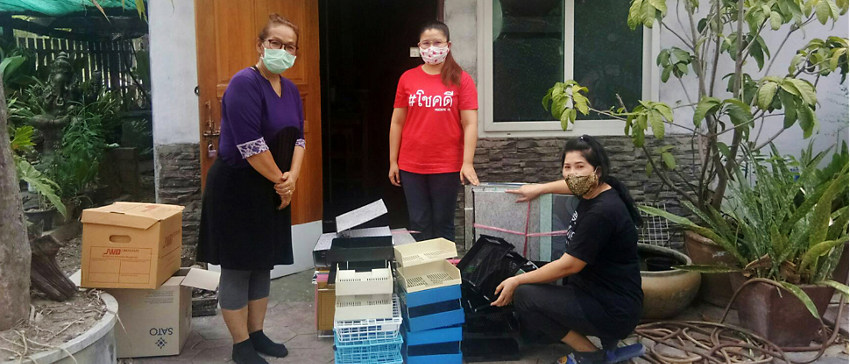 The supplies now have a new home at an organization doing so much good for their community.
No matter how confusing and scary the world gets, I find that the act of giving always brings a sense of joy, peace, and tranquility. This is the beauty we see during times of crisis—people giving their time, giving their energy, or giving whatever they have to help others and to improve the lives of others. We're all going through collective trauma. Even as the situation gets better, the tough decisions we've had to make, the impact on human life, and the effects on the economy may still reverberate, but it's important to remember that all it takes to feel happy again is to give.
And how fortunate I feel to have to work for a company that doesn't just give when times are tough, but is built on a premise of giving—always. "Giving back to the world we travel" even when we're not traveling.
What a blessing!