Americas
Rick & Diane Hickman help students Dress for Success
When Rick Hickman's father was growing up during the Depression, he attended an all-boys' school where the students wore uniforms every day except Friday. While Rick's father himself always had nice clothes, he was struck by the fact that a quarter of the boys didn't show up at school on Fridays because they didn't have anything decent to wear. "He felt for the kids that wouldn't come to school," says Rick. "That always affected me."
For Rick and his wife Diane, being affected has meant taking action. The Des Moines, Iowa, couple have been world travelers since their European honeymoon nearly 40 years ago. In November 2017, Rick embarked on a bucket-list trip when he chose Machu Picchu & the Galápagos for his first O.A.T. adventure.
Included on the itinerary was a visit to the Arin School in the Urubamba province of Peru. The school is attended by 120 students, ages seven to 12. Because of its high elevation—9,000 feet above sea level—the school rates a 10 on the UV index (or exposure to UV radiation). This poses a concern, since the higher the index, the greater the chance for sun damage. To help combat this, Grand Circle Foundation funded the installation of a UV Sun Shade Sail in the playground to help limit the children's exposure to the sun's harmful rays.
During his visit, Rick watched the children playing in the playground. "It was very endearing," he recalls. He noticed, however, that, while most of the children had uniforms, the second graders didn't. Rick spontaneously decided he wanted to provide them with full uniforms, including underwear, shoes, and socks. He reached out to Grand Circle Foundation for help with facilitating the gift. "They got in contact with the school to see where they got the uniforms and made it all happen," he says.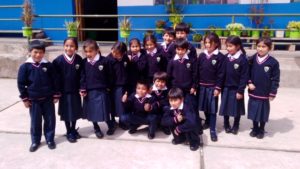 Rick chose the Heart of India for his second O.A.T. adventure, this time taking the couple's three daughters along. "We had a fantastic trip," he declares. This itinerary also included a school visit, this time to a rural school in Ranthambore National Park. The trip took place in January of this year, and "it was bothering me that a lot of kids seemed to be cold," says Rick. He proposed to send hoodies for all 200 students to the school and had a mock-up sent to the Foundation. The Foundation is in the process now of working with the regional office in India in arranging for local manufacture and delivery.
Grand Circle Foundation celebrates the generosity of Rick and Diane Hickman and others who moved by their experiences to give back around the world.